Gourmet Madagascar Vanilla Bean Extract Kit (10 beans)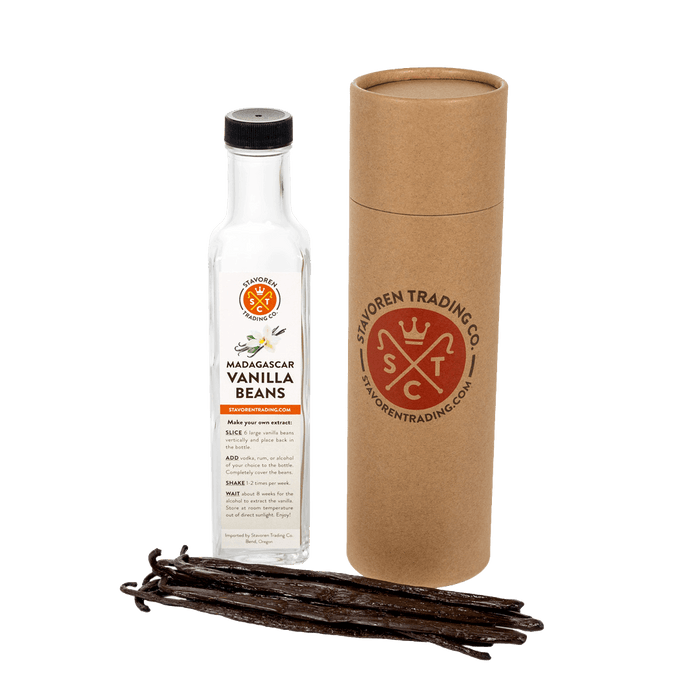 Bourbon Madagascar Vanilla Beans
are perfect for DIY'ers making Vanilla Extract, Vanilla Paste or homemade Kahlua!! They are the most popular and sought after vanilla variety. Their flavor is rich, dark and creamy with an overwhelming sweet, buttery aroma.
A little about our beans:
Hand picked for freshness and rich fragrance

Triple inspected for quality, vacuum-sealed for freshness and safety, and packaged in the USA

We guarantee our product! If you are not satisfied with your order, please contact us and we will refund your product - no questions asked!!

Do not freeze or refrigerate. Store in dark, cool conditions. In an airtight container with a lid that seals well, vanilla beans will keep for 12-24 months.
Very nice and my granddaughter will love these for Christmas. I add Vanilla beans to my jar every...
These were very beans and when II got my shipment I realized you are in you are in Oregon and my daughter lives in Sherwood and is a veterinarian and works at SafeHaven animal shelter. She and her husband were in Bend a few weeks ago. Small world. Thanks again and I will certainly be ordering from you again. Brenda
What a fun kit! The packaging is cute and protective. The beans are beautiful and the directions are clearly printed on the cute refillable bottle. Comes with ten beans per kit, so I immediately also used one of the extra beans to make vanilla bean frosting for a birthday cake, and yum! Good stuff from this company. Will definitely order again.
Great gift!
I ordered 8 to give out as Christmas gifts. They arrived quickly and were well packaged. The vanilla beans were soft and very fragrant. Excited to use the vanilla once it is ready!
Vanilla bean kits
Great packaging and product
Perfect for gift